Greater Yakima Chamber Receives "Above and Beyond" Award from Employer Support of the Guard and Reserve
TACOMA, Wash. May 6th, 2017 – The Washington Employer Support of the Guard and Reserve (ESGR) Committee held its Annual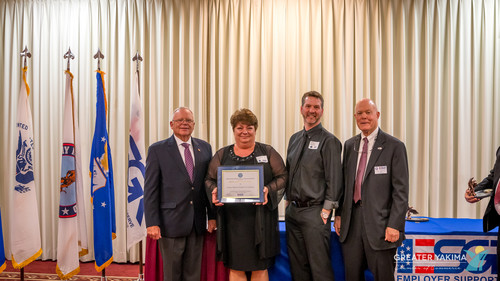 Planning and Awards Meeting (APAM) at the Tacoma Dome Best Western in Tacoma May 6. Over forty volunteers gathered to receive updates, and plan better ways to engage employers and military members.
During the awards portion of the APAM, there were over 100 people in attendance, representing 15 employers. Keynote speakers were Col. Jeremy Horn, Director, Joint Forces, Washington National Guard, and Navy Captain Douglas Munz, Commanding Officer of the Navy Regional Operation Support Center, Kitsap.
President Verlynn Best and Vice President Thane Phelan of the Greater Yakima Chamber of Commerce received an Above and Beyond Award* on behalf of the Chamber's veteran and military programs.
The Chamber Veteran and Military Affairs Committee (VMAC) meets monthly at the Chamber and organizes the Annual Veteran and Dependents Job Fair; the Chamber also provides space for the Central Washington Veterans Task Force – a group of interested individuals who meet to discuss Veterans issues and needs in our community; the Yakima Stand Down Committee; the Chamber provides membership for ESGR; and has hosted ESGR related events.
*Above and Beyond Award
The Above and Beyond Award is presented by ESGR State Committees to recognize employers at the local level who have gone above and beyond the legal requirements of the Uniformed Services Employment and Reemployment Rights Act by providing their Guard and Reserve employees additional, non-mandated benefits such as differential or full pay to offset lost wages, extended health benefits, and other similar benefits. The award is given in limited numbers by State Committees to employers who have had at least one of their supervisors/managers recognized with a Patriot Award, and who have signed or agree to sign an ESGR Statement of Support. State Committees are authorized maximum discretion in considering an Above and Beyond Award for Patriot Award nominations of smaller firms, those with no individual supervisors specified, and other similar situations.
Posted May 18, 2017