Upcoming Business After Hours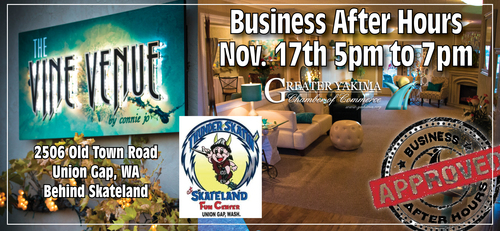 Business After Hours - The Vine Venue/Skatetland Fun Center
Nov. 17th 5pm to 7pm
2506 Old Town Road Union Gap WA
We will be giving away one deluxe birthday package for Skateland Fun Center. The Vine Venue will be giving away a Wine Blending Workshop, Gourmet Dinner Show for two.
Antolin Cellars and Tanjuli Winery will be serving their wines and the Carousel French Restaurant will be serving appetizers.
We will be giving tours of both facilities and the demonstration will be a live corking and bottling of a personalized blend & custom label like we do in our workshops!
Out on the 11,000 sq ft. floor of Skateland, which can be entered from the Vine Venue, people can enjoy watching swing dancers and join in dancing or do the traditional Hokey Pokey, to name a few fun interactive opportunities!
Posted July 30, 2015