Leadership Yakima Class of 2014
The Greater Yakima Chamber of Commerce and Yakima Chamber Foundation Congratulates the Leadership Yakima Graduates of 2014
Yakima, Washington (June 18, 2014) - The Greater Yakima Chamber of Commerce is pleased to announce our 28th graduating class of Leadership Yakima.
Leadership Yakima is a program designed to develop future leaders for our community. Participants learn about our valley's history, learn many rea-sons to be proud of our valley, build relationships with their classmates, and learn how our community gets things done. The program was designed to teach our current and emerging leaders the skills necessary to serve our diverse community and provides an opportunity to discover many different organizations and agencies that need volunteers and board members.
Leadership Yakima Class of 2014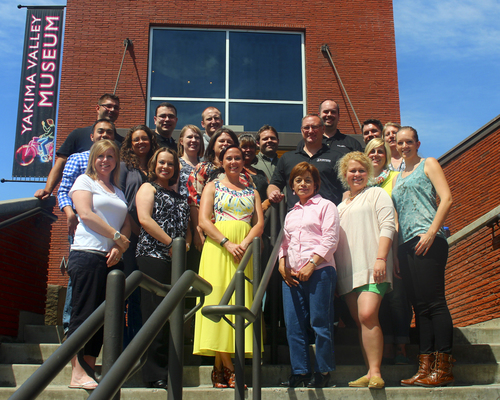 Ben Beckman - Solarity Credit Union
Justin Bellamy - Huibregtse, Louman Associates, Inc.
Evan Casteel - Yakima Valley Memorial Hospital
Adam Coe - Yakima Federal Savings and Loan Assoc.
Jeff Cowman - Memorial Hospital/Sleep Center
Amanda Cutter - Avail Home Health, Inc.
Carly Faul - Central Washington Home Builders Assoc.
Kelly Fox - Tacoma Goodwill
Scott Haney - Shields Bag and Printing
Christie Herbst - Yakima Waste Systems, Inc.
Charlotte Hinderlider - Yakima Valley Libraries
Alex Juarez - Banner Bank
Linda Leavitt - WA State Dept. of Corrections
Eva Lounsbury - Tree Top, Inc.
Luz Monroy - La Casa Hogar
Lacey Offutt - Halverson Northwest Law Group
Stephanie Ray - Huibregtse, Louman Associates, Inc.
Tricia Robertson - Memorial Physicians
Chelsea Marie Snodgrass - Perry Technical Institute
Jon Trenkenschuh - Evergreen Financial Services, Inc.,
Sara Willson - Solarity Credit Union