Blue Zones Presentation Luncheon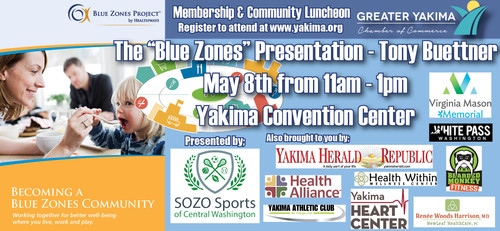 SOZO Sports of Central Washington and the Greater Yakima Chamber of Commerce invite you to explore our collective opportunity to improve the health and well-being of all in the Yakima Valley.

Join us for a discussion regarding the state of health on the Yakima Valley and the best practices that can improve overall health, well-being, and longevity.

The "Blue Zones" Presentation - Tony Buettner
May 8th from 11am - 1pm
$22 members or Member tables of 8 - $160 (registered by 5/5/17)
$32 nonmembers
Yakima Convention Center
REGISTER TO ATTEND HERE

We look forward to seeing you May 8th and encourage you to invite key leaders in your organization as well.

Come discover Blue Zones Project's® unique, systemic approach to improving well-being – focusing on our "life radius." By optimizing the settings where we routinely spend our time such as worksites, school, restaurants, grocery stores, faith-based communities and neighborhoods, we make healthy choices easier – and naturally adopt healthier behaviors together as a community. Blue Zones Project is based on principles identified during a ten-year worldwide longevity study commissioned by Naitonal Geographic and detailed in Dan Buettner's New York Times best-seller.
Discover the Blue Zones Project approach HERE - Video

See Dan Buettner's Blue Zones TEDMED talk viewed by over 2 million people Click here

Albert Lea, Minnesota, was featured on the popular Irish television show Operation Transformation. Check out their impressive transformation as a Blue Zones Community, including a 90 percent increase in community satisfaction, a 40 percent drop in city worker healthcare costs, a 25 percent increase in property values, a 40 percent increase in biking and walking, and three years of life added by program participants. Albert Lea, Minnesota: Operation Transformation - Click here

Featured Members