Congratulations to the Leadership Yakima Class of 2017
Graduation ceremony of the Chamber's 31st graduating class of Leadership Yakima! Click here to Watch

Join the next class! More information here
Rick Pinnell - 2017 recipient of the Ted Robertson Community Service Award
(Yakima, WA) The Ted Robertson Community Service Award was established in 1989 by the Greater Yakima Chamber of Commerce Past Presidents/Board Chairs to honor individuals each year that have made major contributions to the betterment of the Greater Yakima area. Ted Robertson, former publisher of the Yakima-Herald Republic, held a strong belief that good fortune earned in a community should be shared with that community. Ted also believed that we, as a community, ought to find more ways to honor people who distinguish themselves through their community service over and above their chosen profession.

The honorees are selected by the Past Board Presidents/Chairs of the Chamber for their inspiring leadership, achievements and commitment to the improvement of our community as business people and citizens of the Yakima Valley.

The prestigious Ted Robertson Community Service Award has become the Yakima Valley's highest recognition for civic accomplishment and involvement.

The Past Chairs of The Greater Yakima Chamber of Commerce are proud to announce Rick Pinnell as the 2017 recipient of the Ted Robertson Community Service Award.

Rick Pinnell graduated from Washington state University with a B.A. in communications. He served as platoon leader in Vietnam. Rick's business ventures include a copier business and leasing company here in the Yakima Valley.

Rick has chaired boards for; Yakima Rotary Club, YMCA of Yakima, The Yakima Rotary Trust, Heritage University, and Yakima YMCA Trust. He has served on the boards of Yakima Valley Bank, Red Cross, Providence Hospital, many business Associations.

He has also provided leadership to many local organizations including La Casa Hogar, The Yakima Chamber Foundation's Leadership Yakima and others.

Rick and his wife Mary Jo have a daughter and two grandchildren. Rick will be honored as the Ted Robertson Community Service Award recipient October 12th, 2017 during the Annual Chamber and Ted Robertson Community Service Awards celebration at the Yakima Convention Center.
Recent Ribbon Cutting Events
New location of Shorty's Sweets, Treats N' Cake at 114 E. A Street(Sgt. Pendleton Way-just west of Belu Salon). The bakery and restaurant is several time larger than before but with still the same personal attention and care.
The all new offices of FutureLink Technologies, 3711 First Street in Union Gap.
Solarity Credit Union Engagement Center, pilot office is located in Rainier Square, 2412 West Nob Hill Blvd, Ste 100 Yakima, WA
Chamber Award
Greater Yakima Chamber Receives "Above and Beyond" Award from Employer Support of the Guard and Reserve
TACOMA, Wash. May 6th, 2017 – The Washington Employer Support of the Guard and Reserve (ESGR) Committee held its Annual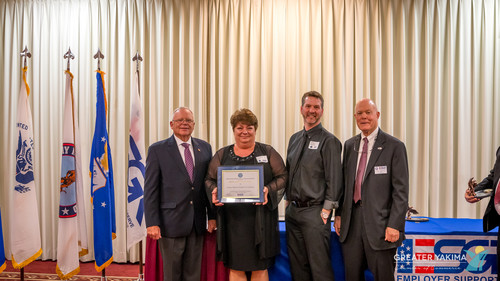 Planning and Awards Meeting (APAM) at the Tacoma Dome Best Western in Tacoma May 6. Over forty volunteers gathered to receive updates, and plan better ways to engage employers and military members.
During the awards portion of the APAM, there were over 100 people in attendance, representing 15 employers. Keynote speakers were Col. Jeremy Horn, Director, Joint Forces, Washington National Guard, and Navy Captain Douglas Munz, Commanding Officer of the Navy Regional Operation Support Center, Kitsap.
President Verlynn Best and Vice President Thane Phelan of the Greater Yakima Chamber of Commerce received an Above and Beyond Award* on behalf of the Chamber's veteran and military programs.
The Chamber Veteran and Military Affairs Committee (VMAC) meets monthly at the Chamber and organizes the Annual Veteran and Dependents Job Fair; the Chamber also provides space for the Central Washington Veterans Task Force – a group of interested individuals who meet to discuss Veterans issues and needs in our community; the Yakima Stand Down Committee; the Chamber provides membership for ESGR; and has hosted ESGR related events.
*Above and Beyond Award
The Above and Beyond Award is presented by ESGR State Committees to recognize employers at the local level who have gone above and beyond the legal requirements of the Uniformed Services Employment and Reemployment Rights Act by providing their Guard and Reserve employees additional, non-mandated benefits such as differential or full pay to offset lost wages, extended health benefits, and other similar benefits. The award is given in limited numbers by State Committees to employers who have had at least one of their supervisors/managers recognized with a Patriot Award, and who have signed or agree to sign an ESGR Statement of Support. State Committees are authorized maximum discretion in considering an Above and Beyond Award for Patriot Award nominations of smaller firms, those with no individual supervisors specified, and other similar situations.
Share this Page
Featured Members