Holiday Office Party - December 16th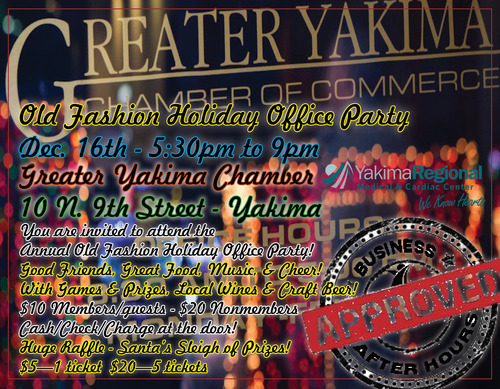 #ShopSmall with Us, Yakima Valley!
The Greater Yakima Chamber of Commerce is proud to support Small Business Saturday ®, a day dedicated to celebrating small, local businesses like yours.
Make November 29th huge for your business by getting involved in the big day.
Check out resources at ShopSmall.com
AND call the Chamber at 509.248.2021 for ways you can be involved and receive a Shop Small promotional kit (supplies are limited). For more information about participating, call now or email thane@yakima.org.
Annual Report
It was a busy 2013-14...here's how your investment in the Chamber continues to GROW the Community!
4th District Candidate Forum VIDEO
Dan Newhouse and Clint Didier Candidates for 4th District Representative

Each candidate had five minutes to introduce themselves and their platform, three minutes to answer each question, and four minutes for closing remarks.
The questions were;
Do you support plans for new water storage in the Yakima Basin?

2. What is your position on immigration reform?

3. What is your position on Health Care reform?

4. Do you support the Market Access Program, the re-authorization of the Ex-Im Bank, new trade agreements, and other measures to promote U.S. exports?

5. The U.S. has the highest corporate tax rates among major economies, putting U.S. businesses at a disadvantage. What is your position on business tax reform?

6. College affordability is a concern for many families and employers, what is your position on federal student loan programs?
Share this Page
Featured Members