2015 Chamber Awards
Black & White - Gala Presentation of the 2015 Chamber and Ted Robertson Community Service Awards
October 22nd, 2015
Yakima Convention Center
$70/PERSON - or - $520/TABLE OF 8
Have your tickets ready and walk right in!
6:00 pm - Doors open Music by KCJ Jazz Co. - No Host Bars
6:30 pm Past Chairs Reception Line for Ted Robertson Community Service Award Recipients
7:00 pm - Dinner Served 2015 Chamber Awards
7:45 - intermission
8:00 pm Ted Robertson Community Service Awards presentation to honor Ron King and Dr. Linda Kaminski
9:00 pm live music and Congratulatory Networking!
Purchase TICKETS here! Once tickets are purchased you may pick them up at the Chamber
Honoring the Ted Robertson Community Service Award Recipients
Ronald King & Dr. Linda Kaminski
AND The 2015 Chamber Award Nominees for:
CHAMBER VOLUNTEER OF THE YEAR
This award is given to a person from the Chamber Board, Chamber Ambassadors, or Chamber Committees who has gone above and beyond in their commitment to serving our community and the mission of the Greater Yakima Chamber of Commerce.
Patricia Byers - Youngevity Yakima
Carmen Mendez - Safe Yakima Valley
Robbie Bustos - Toyota of Yakima
Jay Kelly - Thrivent Financial
NON-PROFIT ORGANIZATION OF THE YEAR
This award is given to an organization that has been outstanding in their service to the Yakima Valley, and has shown exemplary success in achieving their mission.
Yakima Schools Foundation - http://www.yakimaschoolsfoundation.org
YWCA of Yakima - http://www.ywcayakima.org
Community Resource Group - http://www.fostercrg.org
Habitat for Humanity, Yakima Valley Partners - http://www.yakimahabitat.org
EMERGINGBUSINESS OF THE YEAR
This award is presented to a newer business that demonstrates a high level of customer service, innovation, focus on quality, and involvement in the community. This award will recognize an organization that has achieved a presence in the business community and has demonstrated consistent and significant growth within the last two years.
The Yoga Practice - http://www.theyogapractice.life
Cowiche Canyon Kitchen & Icehouse Bar - http://www.cowichecanyon.com
Tieton Cider Works - http://tietonciderworks.com
MEMBER OFTHE YEAR
This award is designed to celebrate an individual or business in the community who demonstrates a commitment to community involvement and promotes the positive spirit of the Yakima Valley. A person or business that excels in community involvement!
Bud Clary Toyota of Yakima - http://www.budclarytoyotaofyakima.com
Joe Mann of Ron's Coin & Collectibles
Rich Austin of Yakima Valley Sports Commission/Yakima Valley Tourism
BUSINESS OF THE YEAR
This Award recognizes the superior performance of a Yakima Valley business, the strength of the candidate's leadership team, workforce, and the company's history of recognizing and seizing market opportunities and leading the business community.
John I. Haas, Inc. - http://www.johnihaas.com
Tri-Ply Construction - http://www.triply.com
Solarity Credit Union - https://www.solaritycu.org
Live music by KCJ Jazz Co.
YAKIMA! All-America City 2015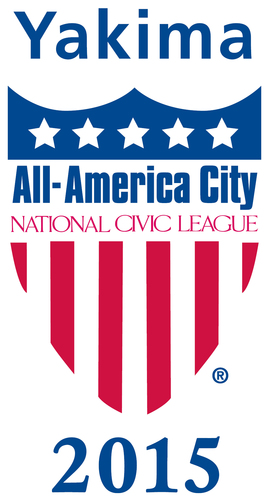 Yakima Captures Second All-America City Award
Try, try again. That motto certainly applies to Yakima's efforts to be named an All-America City. During a ceremony June 14th at the Sheraton hotel in downtown Denver, Colorado, a group of 25 people from Yakima hugged, high-fived, and celebrated when Yakima was announced as one of the communities receiving a 2015 All-America City Award.
"Thrilled and proud," was how Joe Mann described the reaction of the Yakima delegation. "We
worked very hard for this. Congratulations are due the group who came to Denver and got the
win and to everyone back home who had a hand in it," said Mann, a local business owner and
chair of both the Greater Yakima Chamber of Commerce and the 2015 Yakima All-America City
Committee.
Last year Yakima was named a finalist for the coveted civic award but was not among the ten
cities to receive the prestigious designation. Determined to give it another shot, a group of local
leaders led Yakima back to the finalists' competition in Denver again this year and got the result
it was after.
Not giving up after falling just short of a win last year mirrors an effort about two decades ago
that led to Yakima's first All-America City Award. In 1993, Yakima was an All-America City
Award finalist but did not end winning the sought-after designation. The next year, another
campaign was mounted, Yakima became a finalist, and did win its first All-America City Award.
Billed as the oldest and most prestigious community recognition designation in the U.S., the All-
America City Award has been presented by the National Civic League since 1949 to
communities that utilize collaboration and innovation to address pressing local problems. Ten
or more finalists receive the award each year based on an application, a 10-minute presentation
to a jury of nationally-recognized private and public sector leaders, and a 10-minute question
and answer period during which the jury asks presenters about their projects.
Yakima's 2015 application and presentation highlighted the Yakima Gang Free Initiative, the
Perfect Attendance Creates Excellence program, and the 100 Jobs for 100 Kids project.
Most of the Yakima delegation will return home tomorrow (Monday, June 15th) on a Horizon Air
flight that is scheduled to arrive at the Yakima Airport at 5:40 pm. The group will have its 2015
All-America City Award in hand.
"The fact that Yakima has now won the All-America City Award twice is a testament to our
community's ability to take on its toughest issues and work together to solve them," said Mann.
"The All-America City Award is given to communities that don't shy away from adversity, join
forces to tackle difficult challenges, and never say quit. Those qualities definitely describe
Yakima," said Mann. "Winning the All-America City Award again absolutely confirms what a
wonderful community Yakima is."
To learn more about the All-America City Award and to see a complete list of the 2015 winners,
click on the following link - http://www.nationalcivicleague.org/allamericacityaward/.
Yakima Finalist Presentation
Announcement Celebration
KIMA Action News Report from Samina Engel

Donations for Okanogan Complex Firefighters Coming From Far and Wide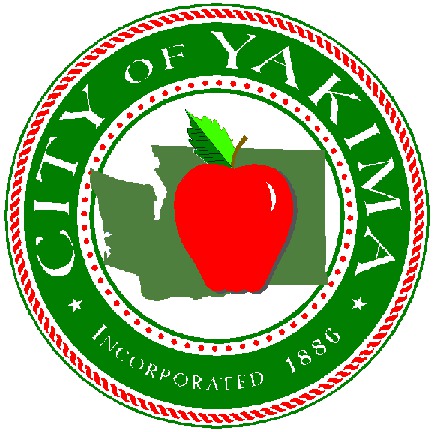 Donations for Okanogan Complex Firefighters Coming From Far and Wide
Since the City of Yakima launched a donation campaign on Monday to gather items to assist crews battling the Okanogan Complex wildfires, the generosity of the Yakima community has been on full display. Donations from local residents and businesses have been pouring in to the two Yakima fire
stations where they are being accepted. Members of Yakima-area Mormon churches have volunteered to sort the donated items and get them ready to be shipped. Haney Truck Line, a Yakima-based hauler, has offered to haul the donations, which may fill multiple semi trailers, to the Firefighter Relief Center in Tonasket for free.
The campaign has also caught the attention of people from outside of Yakima who have learned about the supply drive through social media and have joined the effort.
"I've talked to people from as far away as Chicago and North Dakota who are sending donations our way," said Communications & Public Affairs Director Randy Beehler. "Federal detention workers from Sea-Tac, a business owner from Sunnyside, a group from Clark County (in southwest
Washington state), a group from Burlington (in northwest Washington state) are all pitching in. It's truly an extraordinary response and speaks volumes about the willingness of people to go above and beyond in times of crisis," said Beehler.
Donations of specific, non-perishable items for Okanogan Complex firefighters will be accepted at Yakima Fire Department Station 91 at 401 N. Front Street and Station 93 at 40th Avenue and Englewood Avenue through noon on Friday, August 28th. Donations of money can also be accepted at the two fire stations (checks should be made out to the Yakima Firefighters Association) and will be used to purchase additional supplies.
Even though the Yakima supply drive will end at noon on Friday, donations will continue to be accepted at the Firefighter Relief Center in Tonasket. Donations can be mailed to the Tonasket
Visitor and Business Information Center, Firefighter Relief Center, 215 South Whitcomb Avenue,
Tonasket, Washington, 98855.
The specific items requested by the Firefighter Relief Center in Tonasket are:
- Jerky - Granola bars - Bottled water - Gum - Visine - ChapStick
- Ibuprofen/Tylenol - Bandanas - Tampons/pads - Baby wipes
- White socks (100% cotton) -White T-shirts (100% cotton) -White underwear (100% cotton)
- Gatorade packet drink mix (with electrolytes) - Gallon-size Ziploc bags
The items collected in Yakima will be delivered to the Firefighter Relief Center in Tonasket this weekend.
As of today, the Okanogan Complex fires are approximately 17% contained, up from 15% containment on Tuesday. Almost 1,350 firefighters and other personnel are currently assigned to
the Okanogan Complex. According to emergency management officials, the fires could continue burning for several more months.
Any questions about the Yakima supply drive can be directed to Communications & Public Affairs
Director Randy Beehler by phone at 901-1142 or by e-mail at randy.beehler@yakimawa.gov
Upcoming Business After Hours
Share this Page
Featured Members