Yakima Finalist All-America City
Yakima Chosen as Finalist for All-America City Award: Spotlight on Healthy Communities
(Yakima, WA) April 10, 2014 - The Greater Yakima Chamber of Commerce is pleased to announce Yakima is included in list of 25 finalists for the "2014 All-America City Awards," the country's most prestigious award for outstanding, community-based civic accomplishments organized annually by the National Civic League.
Each year, the National Civic League recognizes ten communities across the nation for outstanding civic accomplishments. To win, communities must demonstrate innovation, inclusiveness, civic engagement, and cross sector collaboration by describing successful efforts to address pressing local challenges. To date, more than 600 communities have won the award. Yakima last received the designation in 1994.
At the urging of Chamber incoming Board Chair, Joe Mann and executive director Verlynn Best, a group of interested citizens starting meeting weekly in late January to draft and finalize a written application before the March 15th application deadline. Self-titled the All-America City Committee, participants included representatives from local media, healthcare, the City of Yakima, Visitors and Convention Center, and local businesses.
"This really was a grass roots effort," said chair Joe Mann. "Verlynn (Best) and I talked, the called some people to start brainstorming. "We are own worst enemies. Yakima is a great place to live. We hope this designation will change locals' perceptions."
Yakima's application presented the much-improved educational system, the Pacific Northwest University of Health Sciences and innovative "Gang Free Initiative" as models of innovative civic partnerships.
The All-America City award program culminates in a three-day event where community delegations tell their stories of successful change to a national jury of business, nonprofit, and local government experts. All-America Cities benefit by increasing community pride, networking with civic activists from across the country and gaining national recognition. The 2014 All-America City Awards will be held in June in Denver, Colorado.
NCL is a 120-year old nonpartisan, nonprofit organization based in Denver, Colorado. Its mission is accomplished by fostering and sharing promising practices of local government and public engagement and celebrating the progress that can be achieved when people work together.
For more information, contact Verlynn Best, Executive Director at the Chamber of Commerce at 509.248.2021 or Joe Mann, Ron's Coin at 509.248.1117.
Veteran and Dependents Job Fair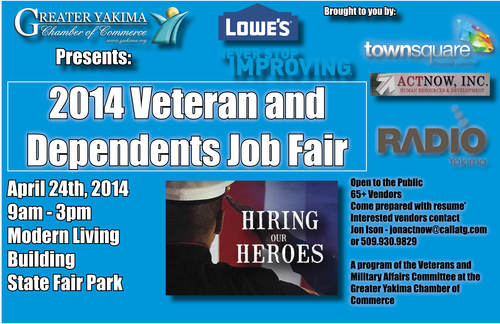 2014 Veterans and Dependents Job Fair
Presented by the Greater Yakima Chamber
April 24th, 2014
9am - 3pm
Modern Living Building
State Fair Park

Open to the Public
65+ Vendors
Come prepared with resume'
Interested vendors contact
Jon Ison - jonactnow@callatg.com or 509.930.9829

Brought to you by ACTNOW Personnel - Lowe's Home Improvement - Radio Yakima - Townsquare Media

Ribbon Cuttings
Unforgettable - '' Moments to Remember'', offering unforgettable wedding gowns and special-occasions dresses, sparkling jewelry, charming gifts, and home and tabletop decorations for any special event. While starting small, we hope to grow into a one-stop bridal and special-occasion shop with more and more selection. Come visit, browse our offerings, and help us realize our dream of more choices for YOU, whether as a hostess, party-goer, or gorgeous bride-to-be. At Unforgettable, we truly embrace love and we want to be a part of your most special experience. 5635 Summitview Ave Yakima, WA 98908 (509) 969-3001 www.unforgettableyakima.com
Staci's Catering is fully licensed and equipped to offer you a complete range of catered services. With 13 years of catering experience, and my love of the trade; I take pride to say I am determined to be the best caterer in the valley. 3108 West Washington Ave Yakima, WA 98902 (509) 480-2084
Northwest Harvest increases warehouse space capacity to better serve Yakima and the surrounding area. Northwest Harvest is a non-profit food bank distributor, distributing food to more than 360 food banks, meal programs & high need schools through warehouses in Yakima, Kent, Grays Harbor & Spokane.
911 S. 3rd Street Yakima, WA 98901 (509) 575-6956
Ambassadors in Action! Recent Ribbon Cuttings
Koi Bistro - Wok Creations, Vietnamese Pho, and sandwiches 1606 W Nob Hill Blvd Yakima, WA 98902 (509) 575-0122
CENTURY 21 Central Realty is a local residential and commercial real estate sales organization and broker office serving the Yakima area. 420 S. 72nd Avenue Suite 180 Yakima, WA 98908 (509) 575-0200
At Aspire Wellness you don't just schedule a appointment, you schedule an experience. Part of what makes your visit an experience is that we will do everything we can to ensure your comfort. Our Mission at Aspire Wellness is a place where the genuine care and comfort of our guest is our highest mission. We pledge to provide the finest treatments & facilities for our guests, who will always enjoy a warm, relaxed, yet refined ambiance. The Aspire Wellness experience enlivens the senses, instills well-being, and fulfills even the unexpressed wishes and needs of our guests. Relax. Refresh. Renew... it's what you do with Aspire Wellness Group. 1015 S. 40th Avenue Suite #18 Yakima, WA 98908 (509) 965-0850
Skyline Home loans open their new Yakima office! at 3911 Castlevale Rd Suite 109 Yakima, WA 98902 (800) 546-7369
Share this Page
Featured Members