March Business After Hours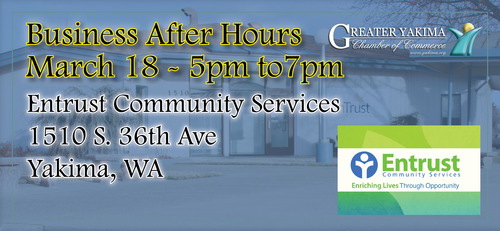 Welcome to a new Entrust! Entrust Community Services is launching a fresh look! Thank you, all the years of partnership and support you have provided in one way or another has lead Entrust Community Services to this point. We are very excited about launching a new brand that will be more focused on strengthening our community so that we can meet the needs of all people with disabilities.
In addition to our new icon, we have adopted "Enriching Lives Through Opportunity" as the tagline that describes our mission to enrich the lives of people with disabilities by promoting creative options that foster integration into their communities.
Come see for yourself! In order to celebrate this new logo and brand, we will be hosting a GYCC Business After Hours Event to be held at our Yakima Service Center. There'll be food, beverages, Presentations, and information so you can learn more about Entrust.
Entrust Community Services 1510 S. 36th Ave. Yakima, WA - click for map
Tuesday, March 18, 2014 5 p.m. - 7 p.m.
Event Options
Ribbon Cuttings
Unforgettable - '' Moments to Remember'', offering unforgettable wedding gowns and special-occasions dresses, sparkling jewelry, charming gifts, and home and tabletop decorations for any special event. While starting small, we hope to grow into a one-stop bridal and special-occasion shop with more and more selection. Come visit, browse our offerings, and help us realize our dream of more choices for YOU, whether as a hostess, party-goer, or gorgeous bride-to-be. At Unforgettable, we truly embrace love and we want to be a part of your most special experience. 5635 Summitview Ave Yakima, WA 98908 (509) 969-3001 www.unforgettableyakima.com
Staci's Catering is fully licensed and equipped to offer you a complete range of catered services. With 13 years of catering experience, and my love of the trade; I take pride to say I am determined to be the best caterer in the valley. 3108 West Washington Ave Yakima, WA 98902 (509) 480-2084
Northwest Harvest increases warehouse space capacity to better serve Yakima and the surrounding area. Northwest Harvest is a non-profit food bank distributor, distributing food to more than 360 food banks, meal programs & high need schools through warehouses in Yakima, Kent, Grays Harbor & Spokane.
911 S. 3rd Street Yakima, WA 98901 (509) 575-6956
Ambassadors in Action! Recent Ribbon Cuttings
Koi Bistro - Wok Creations, Vietnamese Pho, and sandwiches 1606 W Nob Hill Blvd Yakima, WA 98902 (509) 575-0122
CENTURY 21 Central Realty is a local residential and commercial real estate sales organization and broker office serving the Yakima area. 420 S. 72nd Avenue Suite 180 Yakima, WA 98908 (509) 575-0200
At Aspire Wellness you don't just schedule a appointment, you schedule an experience. Part of what makes your visit an experience is that we will do everything we can to ensure your comfort. Our Mission at Aspire Wellness is a place where the genuine care and comfort of our guest is our highest mission. We pledge to provide the finest treatments & facilities for our guests, who will always enjoy a warm, relaxed, yet refined ambiance. The Aspire Wellness experience enlivens the senses, instills well-being, and fulfills even the unexpressed wishes and needs of our guests. Relax. Refresh. Renew... it's what you do with Aspire Wellness Group. 1015 S. 40th Avenue Suite #18 Yakima, WA 98908 (509) 965-0850
Skyline Home loans open their new Yakima office! at 3911 Castlevale Rd Suite 109 Yakima, WA 98902 (800) 546-7369
Chamber Christmas Office Party!
Thanks for attendingThe Annual Holiday Celebration at the Chamber! Brought to you by Yakima Regional Medical and Cardiac Center
Thanks to raffle donations from;
Pan Pacific & Congdon Orchards -Whistler BC Trip -Mukilteo Chamber of Commerce - Yakima Valley Visitors Center -Bob's Burger - Twig's - Yakima Valley Museum - Garden Dance - Garden Girl - Staci's Catering - Fiddlesticks -Bella Fiore Floral - Dunbar Jewelers - Stems - Oxford Suites - Glisten Hair and Tanning - Wray's Marketfresh IGA - Parry Jewelers - Famous Dave's - Sea Galley - Carlie Ruff/Ulta - Case of The Blues -KYVE - Ala Mode -Pacific Alliance Title -Yakima Sports Commission -YCCS - Rusillo's Pizza and Gelato - Evergreen Finacial Services - and more!!!
Also thanks to ! Bale Breaker Brewing Company, Treveri Cellars, Kana Winery, and Naches Heights Vineyard
Share this Page
Featured Members