Blue Zones Presentation Luncheon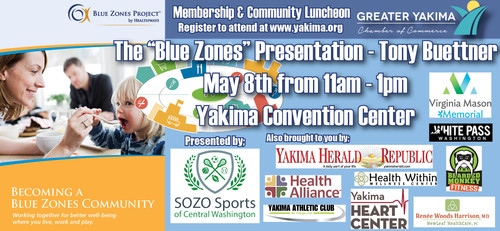 SOZO Sports of Central Washington and the Greater Yakima Chamber of Commerce invite you to explore our collective opportunity to improve the health and well-being of all in the Yakima Valley.

Join us for a discussion regarding the state of health on the Yakima Valley and the best practices that can improve overall health, well-being, and longevity.

The "Blue Zones" Presentation - Tony Buettner
May 8th from 11am - 1pm
$22 members or Member tables of 8 - $160 (registered by 5/5/17)
$32 nonmembers
Yakima Convention Center
REGISTER TO ATTEND HERE

We look forward to seeing you May 8th and encourage you to invite key leaders in your organization as well.

Come discover Blue Zones Project's® unique, systemic approach to improving well-being – focusing on our "life radius." By optimizing the settings where we routinely spend our time such as worksites, school, restaurants, grocery stores, faith-based communities and neighborhoods, we make healthy choices easier – and naturally adopt healthier behaviors together as a community. Blue Zones Project is based on principles identified during a ten-year worldwide longevity study commissioned by Naitonal Geographic and detailed in Dan Buettner's New York Times best-seller.
Discover the Blue Zones Project approach HERE - Video

See Dan Buettner's Blue Zones TEDMED talk viewed by over 2 million people Click here

Albert Lea, Minnesota, was featured on the popular Irish television show Operation Transformation. Check out their impressive transformation as a Blue Zones Community, including a 90 percent increase in community satisfaction, a 40 percent drop in city worker healthcare costs, a 25 percent increase in property values, a 40 percent increase in biking and walking, and three years of life added by program participants. Albert Lea, Minnesota: Operation Transformation - Click here

2016 Chamber Awards
"Black & White" Gala Presentation of the Ted Robertson Community Service and Annual Chamber Awards
Congratulations to the 2016 Award Winners!
Honoring the Ted Robertson Community Service Award Recipients
Steve and Anne Caffery & Dr. Lloyd Butler
AND The 2016 Chamber Award Nominees
Awards Night Photo Gallery - Click here Click "buy" then download is free! Thanks Caffery Photo!
And the winners are.....

2016 Ted Robertson Community Service Tributes; Steve and Anne Caffery and Dr. Lloyd Butler
Recent Ribbon Cutting Events
Chamber Ribbon Cutting - Central Pre-Mix Concrete Co.
2250 Riverside Road, South of Highway 24, the road to Moxee.
Customer Appreciation Event featuring food and beverages and raffles.
Chamber Ribbon Cutting/Grand Opening - MB Designs
11 S. 7th Avenue - Yakima
Chamber Ribbon Cutting and Grand Opening for the new location for MB Designs
Their beautiful new office and showroom, just two buildings south of Walgreens on the corner of 7th and Yakima Avenue. They have taken over the building that was formerly the Mcilvanie Machine Shop, built in 1922.
Chamber Ribbon Cutting and Grand Opening - Open House of the new location for Work Source Yakima, 1205 Ahtanum Ridge Drive in Union Gap.
Chamber Ribbon Cutting
Persimmon Boutique - a program of YWCA
4001 Summitview Ave, STE 4
Yakima, WA
Chamber Ribbon Cutting at Nationwide The Dave Shoults Agency
1112 E. Nob Hill Blvd.Yakima Ste.104
Government Affairs Committee - Homeless Issues Panel
Greater Yakima Chamber of Commerce - Government Affairs Committee Panel Discussion.
Homeless Issues facing Yakima Downtown - Panel
* Tim Sullivan, YVCOG Homeless Housing Program Manager
* Annette Rodriguez, Yakima Neighborhood Health Services
* John Hodkinson, YVCOG Executive Committee Vice Chair and member of Justice Housing
April Meeting - Greater Yakima Chamber of Commerce - Government Affairs Committee
Washington St. Gender Neutral Law "What this Means to Your Business"
Luke Eaton - Meyer, Fluegge & Tenney, P.S.


The Greater Yakima Chamber of Commerce Government Affairs Committee meets the 4th Tuesday of the month at noon at the Chamber, 10 N. 9th St. Yakima. It is open for all members to attend. (Brown Bag lunch meetings)
Share this Page
Featured Members