Leadership Yakima

2017 Leadership Yakima Graduation
Yakima Valley Museum
Come Celebrate the graduation of the Leadership Yakima Class of 2017
5:30 pm - 6:30 pm - Social Hour - Silent Auction to support scholarships for Leadership Yakima 2018
6:30 - Dinner Served
7:00 - Community Project Presentations & Graduation
Chamber Award
Greater Yakima Chamber Receives "Above and Beyond" Award from Employer Support of the Guard and Reserve
TACOMA, Wash. May 6th, 2017 – The Washington Employer Support of the Guard and Reserve (ESGR) Committee held its Annual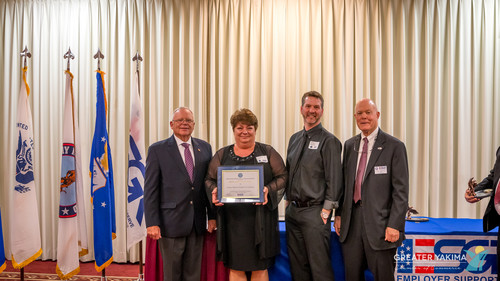 Planning and Awards Meeting (APAM) at the Tacoma Dome Best Western in Tacoma May 6. Over forty volunteers gathered to receive updates, and plan better ways to engage employers and military members.
During the awards portion of the APAM, there were over 100 people in attendance, representing 15 employers. Keynote speakers were Col. Jeremy Horn, Director, Joint Forces, Washington National Guard, and Navy Captain Douglas Munz, Commanding Officer of the Navy Regional Operation Support Center, Kitsap.
President Verlynn Best and Vice President Thane Phelan of the Greater Yakima Chamber of Commerce received an Above and Beyond Award* on behalf of the Chamber's veteran and military programs.
The Chamber Veteran and Military Affairs Committee (VMAC) meets monthly at the Chamber and organizes the Annual Veteran and Dependents Job Fair; the Chamber also provides space for the Central Washington Veterans Task Force – a group of interested individuals who meet to discuss Veterans issues and needs in our community; the Yakima Stand Down Committee; the Chamber provides membership for ESGR; and has hosted ESGR related events.
*Above and Beyond Award
The Above and Beyond Award is presented by ESGR State Committees to recognize employers at the local level who have gone above and beyond the legal requirements of the Uniformed Services Employment and Reemployment Rights Act by providing their Guard and Reserve employees additional, non-mandated benefits such as differential or full pay to offset lost wages, extended health benefits, and other similar benefits. The award is given in limited numbers by State Committees to employers who have had at least one of their supervisors/managers recognized with a Patriot Award, and who have signed or agree to sign an ESGR Statement of Support. State Committees are authorized maximum discretion in considering an Above and Beyond Award for Patriot Award nominations of smaller firms, those with no individual supervisors specified, and other similar situations.
2016 Chamber Awards
"Black & White" Gala Presentation of the Ted Robertson Community Service and Annual Chamber Awards
Congratulations to the 2016 Award Winners!
Honoring the Ted Robertson Community Service Award Recipients
Steve and Anne Caffery & Dr. Lloyd Butler
AND The 2016 Chamber Award Nominees
Awards Night Photo Gallery - Click here Click "buy" then download is free! Thanks Caffery Photo!
And the winners are.....

2016 Ted Robertson Community Service Tributes; Steve and Anne Caffery and Dr. Lloyd Butler
Recent Ribbon Cutting Events
Chamber Ribbon Cutting - Central Pre-Mix Concrete Co.
2250 Riverside Road, South of Highway 24, the road to Moxee.
Customer Appreciation Event featuring food and beverages and raffles.
Chamber Ribbon Cutting/Grand Opening - MB Designs
11 S. 7th Avenue - Yakima
Chamber Ribbon Cutting and Grand Opening for the new location for MB Designs
Their beautiful new office and showroom, just two buildings south of Walgreens on the corner of 7th and Yakima Avenue. They have taken over the building that was formerly the Mcilvanie Machine Shop, built in 1922.
Chamber Ribbon Cutting and Grand Opening - Open House of the new location for Work Source Yakima, 1205 Ahtanum Ridge Drive in Union Gap.
Chamber Ribbon Cutting
Persimmon Boutique - a program of YWCA
4001 Summitview Ave, STE 4
Yakima, WA
Chamber Ribbon Cutting at Nationwide The Dave Shoults Agency
1112 E. Nob Hill Blvd.Yakima Ste.104
Share this Page
Featured Members