2017 Chamber Awards and Ted Robertson Community Service Presentation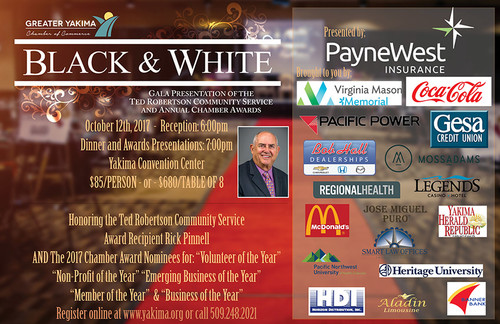 "Black & White" Gala Presentation of the Ted Robertson Community Service and Annual Chamber Awards
October 12th, 2017
Reception: 6:00pm - Music by KCJ Jazz Co.
Dinner and Program: 7:00pm
Yakima Convention Center
$85/PERSON - or -
$680/TABLE OF 8


Honoring the Ted Robertson Community Service Award Recipient Rick Pinnell
AND The 2017 Chamber Award Nominees for:
"Volunteer of the Year"
"Non-Profit of the Year"
"Emerging Business of the Year"
"Member of the Year"
"Business of the Year"
Recent Ribbon Cutting Events
Ribbon Cutting and Grand Opening - Lower Valley Credit Union 1112 E Nob Hill Blvd. Suite 106 Yakima, Wa
Ribbon Cutting and Open House at the new office of Total Travel at Rainier Square, 2612 West Nob Hill Blvd, Suite 1 Yakima
Ribbon Cutting and Grand Opening - Salon BeYOUtiful! 807 W Yakima Ave
Yakima

The M Store - High grade cannabis 1503 E. Nob Hill Blvd. Yakima, WA
Congratulations to the Leadership Yakima Class of 2017
Graduation ceremony of the Chamber's 31st graduating class of Leadership Yakima! Click here to Watch

Join the next class! More information here
Rick Pinnell - 2017 recipient of the Ted Robertson Community Service Award
(Yakima, WA) The Ted Robertson Community Service Award was established in 1989 by the Greater Yakima Chamber of Commerce Past Presidents/Board Chairs to honor individuals each year that have made major contributions to the betterment of the Greater Yakima area. Ted Robertson, former publisher of the Yakima-Herald Republic, held a strong belief that good fortune earned in a community should be shared with that community. Ted also believed that we, as a community, ought to find more ways to honor people who distinguish themselves through their community service over and above their chosen profession.

The honorees are selected by the Past Board Presidents/Chairs of the Chamber for their inspiring leadership, achievements and commitment to the improvement of our community as business people and citizens of the Yakima Valley.

The prestigious Ted Robertson Community Service Award has become the Yakima Valley's highest recognition for civic accomplishment and involvement.

The Past Chairs of The Greater Yakima Chamber of Commerce are proud to announce Rick Pinnell as the 2017 recipient of the Ted Robertson Community Service Award.

Rick Pinnell graduated from Washington state University with a B.A. in communications. He served as platoon leader in Vietnam. Rick's business ventures include a copier business and leasing company here in the Yakima Valley.

Rick has chaired boards for; Yakima Rotary Club, YMCA of Yakima, The Yakima Rotary Trust, Heritage University, and Yakima YMCA Trust. He has served on the boards of Yakima Valley Bank, Red Cross, Providence Hospital, many business Associations.

He has also provided leadership to many local organizations including La Casa Hogar, The Yakima Chamber Foundation's Leadership Yakima and others.

Rick and his wife Mary Jo have a daughter and two grandchildren. Rick will be honored as the Ted Robertson Community Service Award recipient October 12th, 2017 during the Annual Chamber and Ted Robertson Community Service Awards celebration at the Yakima Convention Center.
Share this Page
Featured Members