2018 Veteran and Community Job Fair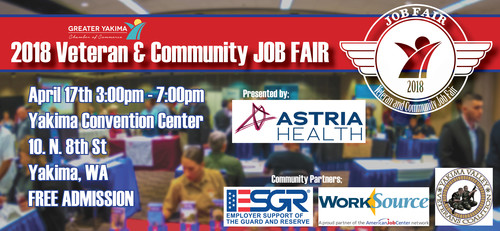 Vendor tables are $150/table - register here
OPEN TO THE COMMUNITY TO ATTEND
More Ribbon Cutting/Open House Events
Grand Opening of Popeyes at 2406 W. Nob Hill Blvd - Yakima in the Rainier Square
Chamber Ribbon Cutting at Tire Center at 1710 South First Street, their all new and larger facility They want to be your tire and wheel center.
Chamber of Commerce for a Ribbon Cutting at the new location of Jewel Crafters Jewelry, They are now located at 3504 West Nob Hill and with plenty of parking. The owner Mike Johns specializes in handcrafted jewelry designs, jewelry repair, custom jewelry, Ellensburg Blue gem stones, wildlife jewelry and more. Mike does it all in house to your specifications.
Recent Ribbon Cuttings
Ribbon Cutting for the new offices of BBSI business services - 311 N. 4th St. Ste.104B Yakima
Ribbon Cutting - Cafe Capri 412 S 48th Ave, Yakima, WA 98908
Now open! Drive Thru and Sit & Sip! Breakfast, Espresso, Lunch, & Smoothies.
Ribbon Cutting and Open House - New offices of Wilson Real Estate Management, 222 South First St. Yakima
2017 Chamber Awards and Ted Robertson Community Service Presentation
Congratulations to the Winners of the 2017 Chamber Award! Voted by your fellow members!
2017 Chamber Volunteer of the Year
Jon Ison - Chair VMAC Veteran and Military Affairs Committee

2017 Non-Profit of the Year
Yakima Humane Society

2017 Emerging Business of the Year
Hoptown Pizza

2017 GYCC Member of the Year
Kellie Connaughton - Yakima Greenway Foundation

2017 Business of the Year
Cowiche Canyon Kitchen & Icehouse Bar
Rick Pinnell was honored as this years recipient of the Ted Robertson Community Service Award, enjoy the presentation again if you were there ... or if you were not, Rick's acceptance is well worth your time! Enjoy!
2017 Annual Chamber Awards Ted Robertson Community Service Award - events pictures
2017 Chamber Awards Portrait Gallery by Marshall Photography
Watch the 2017 Ted Robertson Community Service Presentation - click here
Share this Page
Featured Members