Chamber 125th Anniversray Kick-off Event!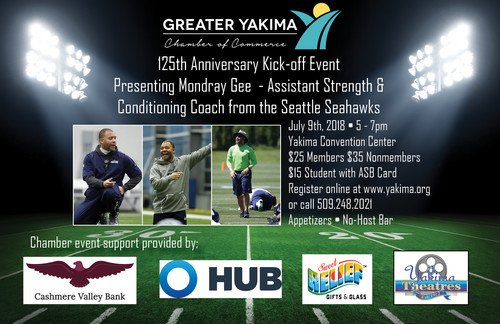 We're kicking off the Greater Yakima Chamber's 125th Anniversary celebration with an after-work reception featuring key note speaker Mondray Gee the inspirational strength and conditioning coach for the Seattle Seahawks! Mondray will share with us how to be our own best. This is an all ages event that will inspire your youth athlete or student as well.
We are looking for the first ten, twenty, or fifty - $500.00 Sponsorships! You will receive a preferred seating table with signage, an event banner ad, placement of your business materials on the registration table, and your logo in a thank you ad in the Action Report.
Do not miss this one, or the opportunity for you to support your Chamber programs and hear Seattle Seahawks Mondray Gee. Reserve your team today with your Sponsorship (including a table of eight) or you may purchase individual tickets.
Greater Yakima Chamber's "125th Anniversary Kick-Off Event"
Event support provided by; Cashmere Valley Bank
July 9th, 2018
Seattle Seahawk's "Mondray Gee"
Yakima Convention Center
5:00 PM to 7:00 PM
No-Host Bar - Appetizers
Please reserve online here or call 509.248.2021
o $500 sponsor - preferred seating table of 8
o $25.00 - members
o $35.00 - nonmembers Click here to register or sponsor the event (includes table of 8)
o $15.00 - Students with ASB card
Thank you for your support of all of our programs,
Verlynn Best
President - Greater Yakima Chamber of Commerce
Recent Ribbon Cuttings
Ribbon Cutting and Open House celebrating the new location for Cashmere Valley Bank!
Cashmere Valley Bank - 127 W. Yakima Ave. Yakima, WA
Chamber Ribbon Cutting/ Leading Force & Design Center
The unveiling to the first Model home in Selah. It is the only home in Eastern WA on the Northwest Green building tour.
700 Goodlander Road, Selah, WA
Chamber Ribbon Cutting - Twisted Sisters Creations Food Truck and Eatery
Eatery opening! 910 Summitview Ave. STE 714 - Yakima WA
Ribbon Cutting - Open House for the new location of the Smart Law Offices, 3600 Kern Road, right next to the White House Restaurant.
Recent Chamber Ribbon Cuttings
The new expanded Yakima Craft Brewing Company at 2920 River Road #6.
Expanded bar and event center with a Live Band, lots of beer, fried foods, auction items, games including fooseball, shuffleboard, darts and much more fun. You love their beer and now you love their expanded facility.
Ribbon Cutting and Open House of Yakima's newest real estate office, Keller Williams Yakima Valley.
1019 South 40th Avenue - Yakima, WA
More Ribbon Cutting/Open House Events
Grand Opening of Popeyes at 2406 W. Nob Hill Blvd - Yakima in the Rainier Square
Chamber Ribbon Cutting at Tire Center at 1710 South First Street, their all new and larger facility They want to be your tire and wheel center.
Chamber of Commerce for a Ribbon Cutting at the new location of Jewel Crafters Jewelry, They are now located at 3504 West Nob Hill and with plenty of parking. The owner Mike Johns specializes in handcrafted jewelry designs, jewelry repair, custom jewelry, Ellensburg Blue gem stones, wildlife jewelry and more. Mike does it all in house to your specifications.
Share this Page
Featured Members