Chamber 125th Anniversray Kick-off Event!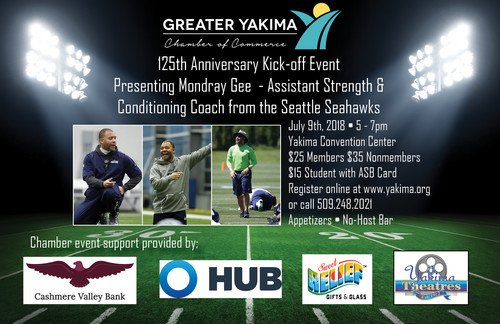 We're kicking off the Greater Yakima Chamber's 125th Anniversary celebration with an after-work reception featuring key note speaker Mondray Gee the inspirational strength and conditioning coach for the Seattle Seahawks! Mondray will share with us how to be our own best. This is an all ages event that will inspire your youth athlete or student as well.
We are looking for the first ten, twenty, or fifty - $500.00 Sponsorships! You will receive a preferred seating table with signage, an event banner ad, placement of your business materials on the registration table, and your logo in a thank you ad in the Action Report.
Do not miss this one, or the opportunity for you to support your Chamber programs and hear Seattle Seahawks Mondray Gee. Reserve your team today with your Sponsorship (including a table of eight) or you may purchase individual tickets.
Greater Yakima Chamber's "125th Anniversary Kick-Off Event"
Event support provided by; Cashmere Valley Bank
July 9th, 2018
Seattle Seahawk's "Mondray Gee"
Yakima Convention Center
5:00 PM to 7:00 PM
No-Host Bar - Appetizers
Please reserve online here or call 509.248.2021
o $500 sponsor - preferred seating table of 8
o $25.00 - members
o $35.00 - nonmembers Click here to register or sponsor the event (includes table of 8)
o $15.00 - Students with ASB card
Thank you for your support of all of our programs,
Verlynn Best
President - Greater Yakima Chamber of Commerce
Featured Members